Dentistry during COVID-19
As an aspiring dentist, I decided to take a look this week at how dental care has been affected by the pandemic and how different it will be in the future. Undoubtedly, there have been drastic changes in how oral care is provided during the age of COVID-19. Though each state has slightly different guidelines at this point in time, the CDC has provided universal guidelines for dental services. In short, the extensive guidelines urge to "prioritize the most critical dental services and provide care in a way that minimizes harm to patients from delaying care and harm to personnel from potential exposure to COVID-19" (1). In most states, dental offices across the country have only been seeing patients in the case of an emergency (2). Dentists are asking patients to take especially good care of their teeth to avoid these emergency visits and potential exposure (2). Furthermore, dentists like those at Touro School of Dental Medicine have been experimenting with telehealth (3). For cases that are not an emergency, dentists are able to assess a patient's oral ailment through dialogue and video via web camera or smartphone (3). With the hardships that have come with this virus, some dental offices have resorted to charging patients with a "COVID-19 fee" (4). These fees have been put in place by dentists to make up for the extra cost for PPE (4). 
The Future of Dentistry
As dentistry has already evolved so much in such a short time, the field will inevitably be completely transformed in the future. As offices are starting to open their doors again, new ways of practicing and amazing innovation have already been seen. Taking a patient's temperature  upon entry and requiring them to answer questions about health conditions as well as potential exposure to the virus is now the standard in dental offices that have just recently opened, with other offices around the country likely to follow suit (5). In addition, it will be necessary for dentists to wear full PPE, with a face shield and N95 mask (5). Most importantly, dentists will need to start using fewer aerosols (5). In one office in Texas, a dentist has started using a vacuum placed below the patient's mouth to reduce particles in air and "Alexa", the no-touch audio control system, to operate his dental machinery (5). Furthermore, dentists will need to schedule appointments for longer amounts of time so that aerosols are eliminated from examination rooms and waiting rooms will be greatly reduced in capacity, or even eliminated altogether (6). Dentistry underwent a major transformation in the 90's during the AIDS epidemic in prioritizing proper protection, and it is predicted that the field will experience similar strides towards safety in the near future (6).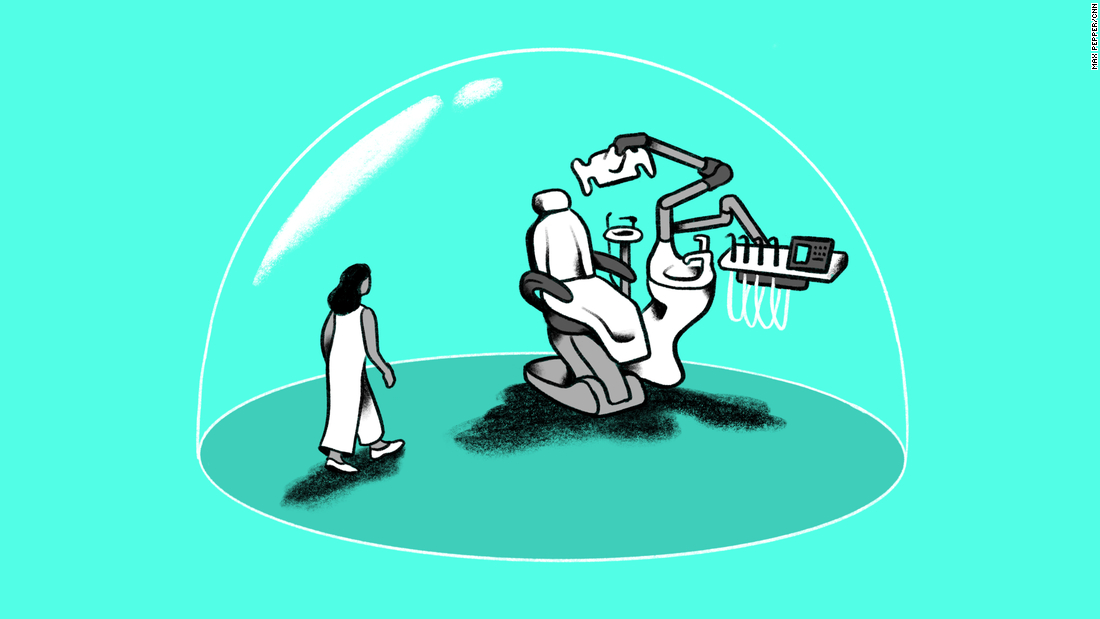 (6)
References
"Guidance for Dental Settings." Centers for Disease Control and Prevention, Centers for Disease Control and Prevention, 3 May 2020, www.cdc.gov/coronavirus/2019-ncov/hcp/dental-settings.html.

Smith, Jen Rose. "Getting to the Dentist during a Pandemic." CNN, Cable News Network, 5 May 2020, www.cnn.com/2020/05/05/health/getting-to-the-dentist-coronavirus-wellness/index.html.

"How You Can Go to the Dentist During Coronavirus." Youtube, NBC New York, 7 Apr. 2020, www.youtube.com/watch?v=OnIMeBUPF8o&feature=youtu.be.

Terry, Jermont. "Some Dental Offices Now Charging COVID-19 Fee." CBS Chicago, CBS Chicago, 21 May 2020, chicago.cbslocal.com/2020/05/21/some-dental-offices-now-charging-covid-19-fe.

"Texas Dental Offices Reopen But With Changes." Youtube, CBSDFW, 1 May 2020, www.youtube.com/watch?v=sIb0E4GyjXE.

Gibson, Kate. "Next COVID-19 Challenge? Reopening America's Dentist Offices." CBS News, CBS Interactive, 25 May 2020, www.cbsnews.com/news/covid-19-a-challenge-for-dentists-and-hygienists-as-offices-reopen/.